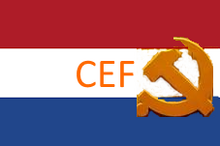 This is a new map game by Lisastr67.
Colors:Dark Red (Lisastr67)
Country:Yamnu (Lisastr67,Dark Red)
Norway-England-SinderKinder
NRF-Augustolord
Light Yellow-Central European Federation (Random Mapper)
Turn Order: Lisastr67-SinderKinder-Augustolord-Random Mapper
Anyone can join! Just name your country and start! You can also make a flag and post it here if you want to.
Ad blocker interference detected!
Wikia is a free-to-use site that makes money from advertising. We have a modified experience for viewers using ad blockers

Wikia is not accessible if you've made further modifications. Remove the custom ad blocker rule(s) and the page will load as expected.